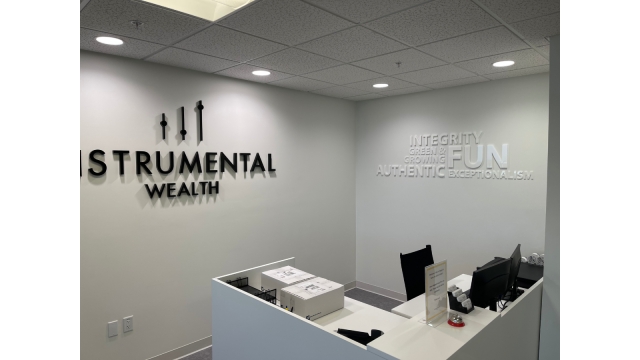 Tampa, FL – Instrumental Wealth, a Florida financial advisor and wealth management group in Tampa, led by David Silver, CFP(R), today announced that they have formally opened a new office in South Tampa, FL, USA, to better meet the needs of their clients.
For more information on Instrumental Wealth can be seen at https://instrumentalwealth.com/financial-advisory-services/
According to Mr. Silver, the plans to further expand and develop operations in Tampa were brought forth by their passion for serving their clients at the highest levels.
When asked to comment on the news, Mr. Silver replied, "It is with great enthusiasm and excitement that Instrumental Wealth would like to formally announce the opening of our new offices as we step into the new year of 2023. We are looking forward to welcoming in existing clients and new clients alike for a personal tour."
The beautiful, new three-thousand square foot office includes a contemporary, welcoming reception space echoing the company's core values, private conference rooms with beautiful sights of downtown Tampa, and offices for the Instrumental Wealth advisors who diligently work to exceed the needs of their clients.
Instrumental Wealth offers its clients in Tampa and those across the United States a host of wealth management services including retirement planning, investment strategies, education savings plans, estate planning, and insurance.
"The relocation of our offices in Tampa is an important step in the continued growth of Instrumental Wealth," said CEO/President, David Silver, CFP(R). "This is a proud moment for our organization as it is a true reflection of our commitment to each other as a team and is symbolic of our dedication to our clients."
Interested parties can learn more at: https://instrumentalwealth.com/
Instrumental Wealth
1 N Dale Mabry Hwy Suite 1000,
Tampa, FL 33609
Phone: +1(813) 578-7001
David Silver, CFP(R), CERTIFIED FINANCIAL PLANNER(TM)
1 N Dale Mabry Hwy #1000,
Tampa, FL 33609
Phone:+1(813) 578-7002
Disclaimer:
"Investment advisory services offered through Instrumental Wealth, LLC, an SEC registered investment adviser. Instrumental Wealth, LLC does not accept orders and/or instructions regarding your account by e-mail, voice mail, fax or any alternate non-verbal method. Transactional details do not supersede normal trade confirmations or statements. This message and any attachments contain information which may be confidential and/or privileged and is intended for use only by the addressee(s) named on this transmission. If you are not the intended recipient, or the employee or agent responsible for delivering the message to the intended recipient, you are notified that any review, copying, distribution or use of this transmission is strictly prohibited. If you have received this transmission in error, please (i) notify the sender immediately by e-mail or by telephone and (ii) destroy all copies of this message."
David Silver CA Insurance License # 0G36416
Instrumental Wealth California Insurance License # 6003576
Instrumental Wealth
david.silver@instrumentalwealth.com
+1-813-578-7001
1 N. Dale Mabry Hwy Suite 1000
United States
COMTEX_424693837/2764/2023-02-17T03:21:44